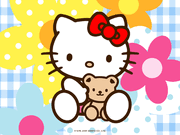 HELLO KITTY For over 30 years, Hello Kitty has purred her way into hearts and homes across the world. Now McDonald's is welcoming the Kitty phenomenon into Happy Meals and Mighty Kids Meals. From room decor and stationery to fashionable accessories, the Hello Kitty Happy Meal offers something special for every occasion.
Toys
Hello Kitty Style Kit - Boasting a hair clip, barrette, and mini-comb, this fashion kit has all the tools to tame your tresses.
Hello Kitty School Kit - Sure to make a statement, the pink carrying case holds a Hello Kitty pencil and mininotebook.
Hello Kitty Sticker Kit - Perk up your papers with this fun kit, complete with sticker sheet and Hello Kitty charm paper clip.
Hello Kitty Accessory - A fabric purse with Velcro closure and plastic clip, this Hello Kitty accessory is purr-fect for any occasion.
Hello Kitty Diary - This hardcover journal contains pages of paper to store your secrets. Use the sticker sheet to decorate your favorite entries.
Hello Kitty Lip Gloss - Sweet inside and out, this Hello Kitty compact case opens to reveal strawberry-scented lip gloss and a mirror.
Hello Kitty Glamour Kit - Ideal for budding fashionistas, the glamour kit includes a stylish bracelet with Hello Kitty charm.
Hello Kitty Artist Kit - This crafty kit holds a paper clip, pencil and notebook.
Community content is available under
CC-BY-SA
unless otherwise noted.