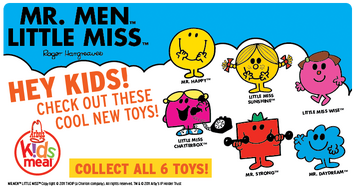 Mr. Men Little Miss picture book series was turned into a six toy series with Arby's Kids Meals, in 2012.
Featured were:
Mr. Happy
Little Miss Chatterbox
Mr. Strong
Mr. Daydream
Little Miss Sunshine
Little Miss Wise
The television series adaptation was offered as a Arby's Kids Meal series in the Autumn of 2010.