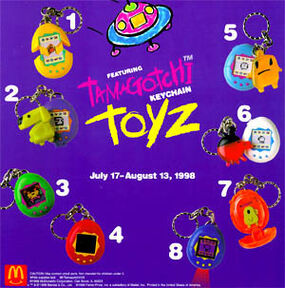 On July 17, 1998, McDonalds released Tamagotchi Happy Meal toys. Toys were available in the United States and Canada.
This was the first Happy Meal series in the world based on the toys. One of the nine toys was only available at Walmart locations of McDonalds. This was the second Happy Meal set to include a Wal-Mart exclusive toy.
Toys
Growagotchi
Puppagotchi
Createagotchi
Secretgotchi
Clearagotchi [Tamatchi version]
Clearagotchi [Takotchi version]
Gameagotchi
Flashagotchi
Glowagotchi [Walmart exclusive, pink egg with glow in the dark Tamatchi keychain.]
Community content is available under
CC-BY-SA
unless otherwise noted.