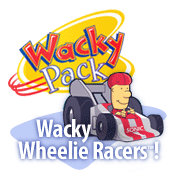 Wacky Wheelie Racers were offered at Sonic Drive-In in their Wacky Packs, in June 2004.
The Race Is On
Pop the clutch and peel out with SONIC's Wacky Wheelie Racers™! Each of these four, colorful racers is driven by one of the Wacky Pack® kids, either Molly (and Tot), Pete, Cherrie or Junior. Their "slingshot action" makes 'em fast and fun. Simply roll the cars backward and let the race begin! Safe for children three years of age and older.
Collect All Four Wacky Wheelie Racers™
Community content is available under
CC-BY-SA
unless otherwise noted.